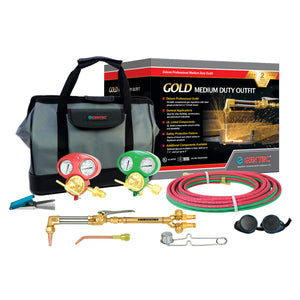 Can weld up to 1/4" and cut up to 1/2".
Ideal for ship building, construction, petroleum, and chemical industries.
Optional tips are available to weld up to 1-1/4" and cut up to 6".
Victor Performance equivalent.
1121 Components: 142T-CV Torch handle w/Check Valves, 142C Cutting Attachment, 152X-80G Oxygen & 152Y-15G Acetylene Regulators w/Gauge Guards, 172C-0 Cutting Tip, 172W-0 Welding Nozzle, HW23-T020 T-Grade 20 foot Twin Hoses, 9-WG6G Goggles, 25-300 Striker, 25-120 Tip Cleaner, and Instructions.
UL Listed.