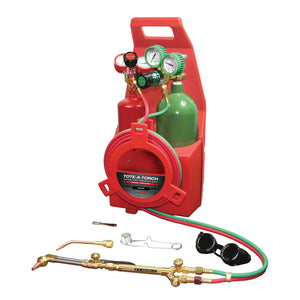 Welds up to 3/16" and cuts up to 1/2". Will weld up to 1-1/2" and cut up to 6" with optional larger tips.
12-PTC Components: 142T-CV Torch Handle with Check Valves, 142C Cutting Attachment, 210X-80G Oxygen Regulator, 210Y-15G Acetylene Regulator, 172C-0 Cutting Tip, 172W-1 Welding Nozzle, HW23-T012 T-Grade Twin Hoses, 9-WG6G Goggles, 25-300 Striker CRT10 Plastic Carrier, 27-0005 Cylinder Wrench, CY20-540 Oxygen & CY10-MC Acetylene Cylinders.
A light to medium duty portable outfit that is extremely popular for general maintenance work, metal sculpture, automotive repair, air conditioning, refrigeration, and etc. The carrier is made of tough, lightweight polypropylene and is designed to carry one "MC" acetylene cylinder, one "R" 920 cu. ft oxygen cylinder, and apparatus.
Featured with this outfit are rear entry regulators for better balance on the small cylinders. The acetylene regulator has an "MC" (CGA 200) inlet connection and the oxygen regulator has the standard CGA 540 connection. Victor Portable Torch Compatible.